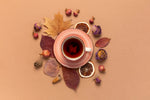 Oh Fall, how I love you! The cooler temperatures, the changing colors of the leaves, the decorations, the smells of freshly baked pumpkin bread in the oven & my favorite fall candle burning. The sights & smells of fall, I love them all! After a long difficult COVID 2020 I am sure we are all looking forward now more than ever to this special time with family & friends. The approaching holidays bring excitement, anticipation & let's face it, some stress! With this in mind, we have ordered some special seasonal teas to help you relax & enjoy the holidays. Here is your sneak peak into those special limited time teas.
First, our Pumpkin Caramel Rooibos, caffeine free, earthy & full of fall yumminess! Chocolate Hazelnut is a black tea flavored with a sweet chocolate nuttiness for all of you chocoholics out there. Our Cranberry Cider is a mixture of both tart and sweet. Dried cranberries, hibiscus petals & cinnamon flavors are blended in this delicious herbal tea. White Chocolate Peppermint Rooibos is for those of us who crave chocolate & peppermint during the holidays. Finally, our Black Caramel is an Assam & Ceylon tea with drizzles of caramel blended in. Assam is of course one of the teas with higher caffeine content so it can give you that extra bit of energy you need for all your holiday baking, decorating and of course, shopping!
These seasonal custom blends are only here for a short time, so watch for our announcement that they are now available. We expect them to arrive the end of October & they are only available while supplies last. You will want to stock up before your holiday guests start arriving. Also as temperatures begin to drop, there is nothing better to warm us up and give us a little peace and tranquilitea than curling up with a blanket, a crackling fire burning in the fireplace & a nice hot cup of tea. Whether it is one of our choice seasonal blends or one of our year-roundteas, let us bring some warmth into your holiday season. To all our valued customers we wish you a safe, joyful & healthy holiday season.