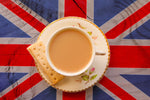 From the child of a Canadian mother who grew up with good quality tea, to a woman who married an English man. I first fell in love with tea as a young girl. I remember having tea with my Scottish grandmother and I still have teacups that remind me of those special times. Great memories. I have spent a lot of time in England and have enjoyed Afternoon Tea in many countries. When I married my Englishman and we had children, this love & passion for tea was passed along to them. They too have some great memories of Afternoon Tea enjoyed with their Nan & Grandad, Aunts & Uncles in England. The tea cakes, the tea sandwiches, fresh-baked scones with clotted cream & fresh strawberries, makes your mouth water just thinking about it.
Whatever the celebration, tea has been part of it. Fast forward to today. We have spoken of sharing our love for tea with others for many years. Our travels in those years introduced us to other blends and customs from around the world and our love for tea grew even greater than before. So, we decided to open that door, walk through it and we invite you to come along. Experience the exotic blends of Asia & the Middle East, The historical & traditional teas of Europe & the United Kingdom and the ancient traditions of Japan.
This is only the beginning! As we add more and more teas to our collection & more product to enhance your tea experience, we hope that you will pay it forward and pass your love for tea on to your circle of friends & family.